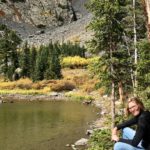 My husband Ethan and I love to hike.  He posts snapshots of those hikes on social media, but I've always thought it might be nice to tell the story of the hikes behind the pictures.  So, thanks to the inspiration of another hiking friend who is also a far more prolific writer than I am (go to his blog here), I thought I might finally write a bit about some of our hikes and what it's like to be an active person with a chronic illness (if you want to know more about that illness, here's a link). And there is no better place to start than our hikes in Colorado.
Last Thursday night, Ethan and I flew into Denver, Colorado, ready for adventure.  We stayed the night in Denver, and drove to Breckenridge the next morning, stopping along the way for a hike to Mohawk Lake.  Although we didn't know it, the altitude we started the hike at was 10,000 ft. That is significant because the science of altitude acclimatization is this: your body will acclimate to about 5,000 feet within the first 24 hours.  For each day thereafter, your body acclimates about 1000 feet.  All that to say, we were in no way—having arrived less than 24 hours ago—properly acclimatized.
The hike was said to be an easy 7 1/2 mile out and back jaunt to a series of beautiful mountain lakes.  It was also about a 2000 ft. gain from the trailhead.  That is when I learned the first and possibly only perk of having Chronic Fatigue Syndrome: I didn't get altitude sickness nearly as badly as Ethan because my body is used to running on a lower amount of blood oxygen.  Yay?
The hike itself was beautiful.  We took our time, both out of necessity and because we were enjoying the blue sky overhead and the shady evergreens surrounding us.  The air, although thin, was air was crisp and refreshing.  The first little lake that we arrived at (to stop and have snack) was MayFlower Lake.  The clear teal water reflected the looming mountains surrounding us.  We sat, basking in the warm sun, but in only a matter of minutes, the sun was blocked out by fast-moving grey snow clouds that had crossed the mountain range.  It began to snow, lightly at first, and with the snow, came the temperature drop.  Wearing only sweatshirts, we were not quite prepared, so we decided to get a move on to the upper lake.
The last 800 ft. was comprised of steep rocks and involved some scrambling.  The hiking term "scrambling" means that you have to use your hands.  Along the way, we saw some old abandoned mining cabins and a large rusty metal pulley system.  As for the weather, the higher up we went, the harder the snow became.   I was a bit dizzy from the altitude, but Ethan was feeling nauseas and more out of breath from the altitude.  As we got to Mohawk Lake, we watched a man catch an orange fish, took a couple of pictures, and booked it back down.
The lower we descended, the more the snow turned to cold rain and made the rocks slippery.  Much of the way back down was not memorable because I was focused on staying warm in my soaked-through clothing.  Thankfully, we went straight to the hotel, checked-in, and took immediate advantage of the hot tubs.  Ahh.
The next day, Ethan wanted to climb Quandary Peak, which is a 14,000 ft. mountain and I refused because it was supposed to be snowing and raining the whole day and I wanted at least one more day to acclimate.  For the non-hiker, or east coast hiker such as myself, a 14,000 ft.  mountain is considered between high altitude and extremely high altitude—depending upon the body and acclimatization of the hiker.  Climbing at this elevation, especially if one is not properly acclimated, can be life-threatening.  That being said, Ethan acquiesced and we took a "rest" day, by attending a yoga class, walked around the picturesque Breckenridge, visited a few museums, and attended vigil mass.  We ended up walking about 8 miles…Oops.  So much for rest!
That night, I didn't sleep much because I was dreading the next day's hike.  Don't get me wrong, I love hiking, but I don't enjoy hiking not knowing how my body will react or how much I will have to pay for it later.  This would be my first 14er and I know from experience that CFS is not always predictable and sometimes does not hit until 2 weeks later, or other times, it slams me like a freight train right then and there, my body surging with pain and fatigue.  Mostly, I had a fear of passing out toward the top or having muscles seize up because my body was not producing enough oxygen (both are likely outcomes and they've happened before).  In a way, this would be a sort of test.  Since our hikes in Alaska, where we did several difficult hikes, and one brutal one, Ethan and I have figured out how my impaired mitochondrial DNA intake nutrition and how much or little it turns into usable energy.   We know that if I'm able to keep my heart rate below 140, I can remain in aerobic zone, thus burning fat instead of building up lactic acid and burning muscle (which happens immediately for me in anaerobic zone and quickly incapacitates me).  Knowing this has helped me to get much better than I was even 2 years ago.  We also have learned that I need to eat something every hour, otherwise, my body goes pretty far out of whack. It's a delicate balancing act.
We also learned one extremely important lesson when hiking in Alaska that every hiker should know and which I will gladly pass along to you, in case you should ever consider hiking large mountains:
Native hikers always understate the trail difficulty as a way of humble-bragging.
Example: "Bird Ridge was a gorgeous hike! My friend and I used trekking poles that definitely helped going down. Be prepared for false peaks. Once you get on the Ridge it gets easier-ish. Peak 3 is where the survey monument." —A native Alaskan reviewing Bird Ridge
Reality: Easy is not a word to be used regarding this hike.  There were 6 false peaks, the elevation was extremely steep, and there were no switch-backs.  If you stop to get your breath for a moment anywhere below the tree line, softball size mosquitos will swarm you in a black cloud and suck your blood through your clothing.  Towards the top, you must walk through 3 feet of snow, making sure that you don't accidentally step off too far to either side because otherwise you will fall hundreds of feet down steep drop-offs. Yes, it was gorgeous and no, the review wasn't accurate.
Knowing that, and looking up reviews for this hike that was said to be the "easiest of the 14ers," I found this gem and wondered how inaccurate it would turn out to be.
"Only 3.3 miles from parking lot to summit; about 3 hrs to get up top. Makes this a great 'first timer' 14,000 ft summit."—A Native Coloradan, reviewing Quandary Peak
The big morning arrived.  Ethan was annoyingly giddy with anticipation before I'd had my coffee.  I was dreading this hike far more than I was looking forward to it, but I was trying to have an optimistic attitude about it.  Our goal was to summit by noon when the weather would have the highest possibility of being good.  The forecast was 25 degrees, 30-40 mile an hour winds, with a windchill of 7.  We packed layers of clothing and hoped for the best.
The hike up to the tree line was beautiful, green, relatively easy, and surrounded by vast, snow-covered mountains.  At the base of the mountains were two beautiful, iced-over lakes. Up ahead, blocking the view of most of the ridge, were dense snow clouds, but Ethan had estimated that by the time we got there, it would be passable as long as we dressed well.  He was right.  Thankfully, I married a man who knows his cold weather hiking, so we were prepared with the right gear and were perfectly toasty the whole time.
Most of the people that had passed us earlier in the hike (we were taking it slow) ventured to the ridge just beyond the tree line and were forced to turn around.  They were coming back down as we were headed up. We estimated that only around 25-30% of people who hiked that day actually summited.  The hike up the ridge was very windy, but also relatively easy.  We kept our heart rates low and the clouds cleared to reveal a crystal blue sky.
The challenge came at about 13, 700 ft.  The last false peaks were snowy, rocky, and extremely steep.  This was the part I was worried about.  As I had feared, my muscles started to react the lack of oxygen, so the climb up was extremely slow.  I couldn't keep my heart rate low either, due to the extreme altitude. It was so painfully slow, and it didn't help morale to see "those damn Colorado native twenty-somethings bounding up the mountain like mountain goats" *said in grumpy old man voice.*  So we slogged, Ethan feeling quite bad from the altitude, but being the amazing person he is,  he remained optimistic and cheerful.  He asked me at one point if I wanted to stop (because he knows that if I stop talking, it means that I am completely focused on finishing), and as he suspected, I told him something to the extent of, "we've come this far.  There's no way I'm stopping now."  It felt like a hellish eternity (an hour and a half) until we made it to the summit.  I had hoped to feel some sense of accomplishment or elation at the summit, but what I felt instead was the need to relieve myself because I'd been holding it for 2 hours.  So I did, and then had to quickly redress because a young, frustratingly not-breathless Coloradan guy came bounding out of nowhere.
Ethan, my sweet, adrenaline-loving man, "Woohoo-ed" and "Yeah-ed" and took pictures, feeling completely elated.  I sat on a rock and enjoyed the view, but oddly, felt nothing but dread of the way back down.  We didn't stay at the top very long because the wind was biting through our many layers.  As we headed back down, I realized that as I had feared, my small stabilizer muscles had lost their coordination.  I had none of the usual signs of Acute Mountain Sickness, but I was experiencing a sort of Ataxia (lack of muscle control) which is dangerous when you have to climb down a mountain, but thankfully, this is something I've experienced often and know how to maneuver.   I know I looked like one of those marathoners who has no muscle control left, but I didn't care.  What I did care about was the terrible pain shooting through my neck from old injuries.  I kept praying that God would help me to have a better attitude about the whole thing, because yes, I was in a magnificently beautiful place, but I was so wrapped up in the pain in my own body and the effort to make it down, I could not enjoy it.  A great metaphor for life, eh?
On the way down though, God was kind.  In my path, was a butterfly lying in the snow, beautiful purple and vibrant orange standing out against the white.  It was unmoving, and probably brought up by the wind gusts.  Its beauty (even in death) made me grateful that I can even think of climbing mountains since most people with CFS can't even get out of bed and I couldn't even have imagined doing this even a few years ago.  A little time later, two shaggy mountain goats made their way up the steep rocky path.  They looked at us with an intermittent mix of disinterest and curiosity.  Their beards had chucks of ice hanging off, making them look like decorative beads.  It was another kindness from God.
By the time we made the tree line, I could barely keep my eyes open.   This used to happen often when my CFS would get really bad and I would nearly fall asleep while running.  The way down was slow and by the time we reached the bottom, the hike had drawn out to 7 hours and I just needed to sleep.  So we reached the rental Jeep, took off a few layers and Ethan drove to Colorado Springs while I closed my eyes for an hour or so.
Was it worth it?  I don't know yet.  Was it smart?  That's debatable.  I'll know better in a couple of weeks.  But I'm glad I did it and I'm especially thankful for an encouraging husband who doesn't mind hiking a little slower for his old lady 😉