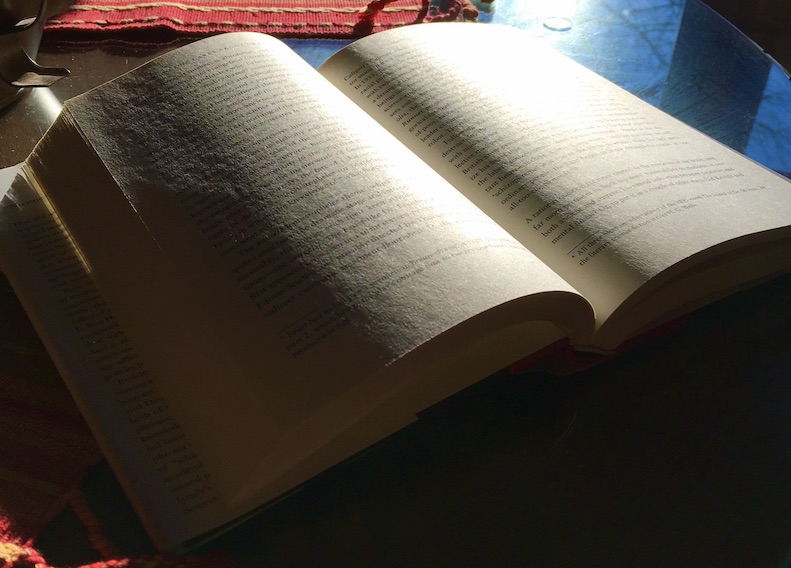 Fiction
The Snow Child by Eowyn Ivey
This book is a fast, easy read and oh so enchanting. I'm partial to it for many reasons, but mostly because I love historical fiction, realistic descriptions of nature, mysteries, touches of magic, and stories of finding joy in hardship. The story is set in the 1920's, when people were beginning to homestead the Alaskan frontier. The author grew up in Alaska, so her first-hand knowledge of its dangerous enchantments suck the reader right into the story. It's a beautiful tale of hope, sadness, and choosing joy after loss. It's historical fiction mixed with a fairy-tale. Read it. Then consider reading it to your teens.
Laurus by Eugene Vodolazkin
This book is magical—in the most medieval Orthodox Russian sense of the word. This was the book I chose to lug with me for 200 miles of the nearly 400 miles of the Camino de Santiago. I could not have chosen a more perfect book for a pilgrimage. It is the tale of a spiritual pilgrim named Arseny, who finds his way through an old world in which the line between faith and magic is inextricably blurred, and whose entire life is spent chasing God. Not only is it a fantastic book that should be read, but for me, the parallel of reading it during my own spiritual pilgrimage gave it a more tangible import; so much so, I left it at one of the stops along the way, with an inscription to the next Camino pilgrim who picks it up. Here is the crux of the book that I hope will give you a sense of its beauty.
"And so, O Savior, give me at least some sign that I may know my path has not veered into madness, so I may, with that knowledge, walk the most difficult road, walk as long as need be and no longer feel weariness." [says Arseny]
"What sign do you want and what knowledge?" asked an elder standing [nearby]. "Do you not know that any journey harbors danger within itself? Any journey — and if you do not acknowledge this, then why move? So you say faith is not enough for you and you want knowledge, too. But knowledge does not involve spiritual effort; knowledge is obvious. Faith assumes effort. Knowledge is repose and faith is motion."
"But were the venerable not aspiring for the harmony of repose?" asked Arseny.
"They took the route of faith," answered the elder. "And their faith was so strong it turned into knowledge."
A Prayer for Owen Meany by John Irving
This was an audiobook that I chose for the Camino. I don't know how many times I found myself walking up and down mountains, guffawing at the antics of the two main characters in the book (especially the Christmas pageant part). It is a well-crafted story. There is mystery aplenty, the characters are unique, the narrator gives you just enough hints to make you wonder how you get from the beginning of the book to the end, with just enough strangeness and hilarity that you can't stop reading.
Circe by Madeline Miller
I think this was my favorite Fiction from 2019. It was so beautifully written, and so creative. After finishing Homer's Odyssey a few years ago, I felt dissatisfied because I had a multitude of unanswered questions all pertaining to the origins and story of the ever-tantalizing Circe. Apparently, Miller thought along those same lines and wrote herself a beautifully fleshed-out answer in book form. If you enjoy Greek/Roman/Nordick myths, fantasy, or an appreciation for the classics, you'll love this.
Never Let Me Go by Kazuo Ishiguro
After reading two of his other books, "Remains of the Day" and "When We Were Orphans" (both of which I highly recommend), I felt a sufficient enough amount of faith in his story-telling abilities that I could endeavor to set aside my cynicism regarding the implausibility of the situation on which this particular sci-fi story hinges. And enjoy it, I did. A lot. The characters and their relationships are wonderful and complex. The exploration of psychology is enjoyable and the narration is divine. Narration, I believe, is Ishiguro's greatest asset.
Where The Crawdads Sing by Delia Owens
This book contains all of my favorite things: southern foods and language that always take me back home, mystery, murder, drama, and lots of nature. The only downside for me—and maybe 1% of the population—was the romantic stuff (necessary I guess, but boring). That being said, it's a great book.
Classics
Anna Karenina by Leo Tolstoy
As you might be able to tell from my comments above, I'm the least romantic person I know with a very low tolerance for emotional frittering. So, for many years, because I knew the basic gist of the plot (an affair between Vronksy and Anna and how that affair drives Anna into desperation and madness), I kept finding reasons to avoid this book. For some reason that escapes me now, I decided to take the plunge last year. I'm so glad I did. It is an amazing book and amongst my favorites now.
Here is something important that no one tells you about this book: there are 2 parallel story arcs (the Anna and Vronksy affair is only one of them), with 2 main characters, Anna Karenina, and arguably more important, Konstantine Levin, but only the former is ever talked about. If you've watched the most recent cinematic iteration, Levin and his plot line are left out entirely. I think this is the gravest disservice that one could do to the telling of this story because it robs it of its meaning and depth. I suppose Levin and his plot is left out of retellings because his story is not as dramatic as Anna's and Vronky's, but at least to me, it was his story and the contrast of it against theirs that gave everything meaning.
I loved the depth of character of Levin. I loved how he thought, his grappling with questions of faith, his way of thinking, his hard-working, decisive nature. His appreciation for nature. I identified so much with him and wondered if he was based on someone Tolstoy knew. Much to my delight, I learned that Levin was an autobiographical portrait of Tolstoy himself! If you read it, I'd love to know what you think.
The Woman in White by Wilkie Collins
I get a kick out of Victorian who-dun-its. Especially when they're penned by Wilkie Collins. His "sensation novels" are always slightly over-dramatic, full of fragile, fainting women, and men who speak in passionate hushed tones of the sensibilities of ladies. And yet, Collins always manages, even within the drama, to keep it light-handed and with a touch of tongue-in-cheek. It's a fun and wonderful story that I imagine him writing with one arched eyebrow and a smirk on his face.
Fantasy
Oathbringer by Brandon Sanderson
Always fantastic. I've written about his books nearly every year. Here's the review regarding the first book in this amazing series.
The Magician's by Lev Grossman (the series)
I was a little iffy going into this series, but the ideas, although dark, interested me. Many people who've mentioned this series compare it to a very dark version of Narnia. That's accurate, and I do love Narnia, but there are many creative, and rather original ideas within the books too. A former professor of mine recommended it and knowing that she and I have similar taste in books, I had to read it. I'm very glad I did.
Warning: There is quite a bit of language and some sexual content in the first book. You may just want to skip over some of that (that's what I did and there's no plot-loss because of it). By book two, the series hits its stride and has less of the "bleh" and more of the "cool."
Legion by Brandon Sanderson (series of novellas)
I love reading something that you can tell that the author had a grand ole time writing. This was a fun, original, odd, mystery/thriller sci-fi novella.
Parenting Books
The Connected Child by Dr. Karyn Purvis
I wrote a review of this a few years ago, when I'd only had the experience of raising traumatized siblings (which I've since learned most people don't count as actual parenting) but now that I have actually parented other traumatized children for a year (which yes, is exactly the same as raising ones siblings), this is my parenting Bible. I've read many, many parenting books, and I have to tell you, it doesn't matter if your kids are traumatized or not, this is the best parenting book you will read. The loving principles within are applied every.single.day. in our home. I don't generally re-read books, but I've read this one at least 20 times now.
Better Behavior for Ages 2-10: Small Miracles that Work Like Magic by Tara Egan
This is a little-known gem and it dovetails perfectly with the parenting techniques laid out in the Connected Child (also known as TBRI). And if you are parenting traumatized children, there are only a few slight modifications that you will need to make to some of the techniques in this book (but if you read The Connected Child first, it's obvious).
Historical
The Indifferent Stars Above by Daniel James Brown
You may be wondering why anyone would voluntarily read an entire book about the Donner party? Well, for three reasons. 1) I read this because sometimes when my own life sucks, I need to read about people who had it WAY worse, to put my little trials into perspective. 2) Since reading Brown's Boys on the Boat, I would read a phonebook if he wrote it, And 3) since I was mostly self-educated, there are things that I missed learning about, and knowing more than the Donner party ate each other, is one of them.
The series of unfortunate events that led up to the horrific events is unbelievable. And to me, the extraordinary amount of research that went into this writing, but also the empathy, his ability to connect with the people who experienced the events (through letters, other histories, journals), his sensitivity and attention to detail, is what makes Brown much more than just another bored historian retelling a well-known story. If you can stomach it (no pun intended), you should read this.
Nonfiction
A Walk in the Woods by Bill Bryson
I suppose that he will always make my list. The man's stories make me laugh out loud. Perhaps it's his mixture of humorously self-deprecating stories while simultaneously looking down on everyone around him and placing them in some sort of narrative box to write them into later. This particular book was my favorite of all of his books because it's about hiking and that is something I'm actually semi-knowledgeable about. I laughed so much at the hilariously ignorant antics of him and his friend "Stephen Katz" as they navigated the Appalachian trail. As with all of his books, there is a perfect blend of actual information about hiking the Appalachian, exaggeration of things to fear while on the trail, his personal stories of mistakes, and the history and ecology of the trail. You can't go wrong.
Historical Fiction
Before We Were Yours by Lisa Wingate
This was a well-crafted story about a fictional family living through mostly non-fiction events. The story revolves around a real black market baby adoption scheme in the 1920's that kidnapped children and coerced destitute families to give up their children to the Tennessee Children's Home Society. It was fascinating and eye-opening. It is a good mystery, and well told. You should read it.
Memoir
Educated by Tara Westover
I loved this book because I could identify so much with it. If you want to understand those from dysfunctional homes whose lives are daily affected by severe mental illness and violence, this is going to be an educational read. The Westover family was a fringe Mormon survivalist family in Idaho. They were self-taught, abused, and whose beliefs revolved around everything their bipolar, possibly schizophrenic, father taught them. Tara is a survivor and her story is important because her story, although extreme, is not unlike the story of many.