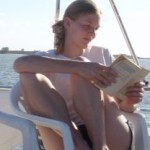 BEST
Les Miserables by Victor Hugo
The epitome of BEAUTY. If I had to say what kinds of stories delve deepest into my soul, it is this story: redemption through great suffering and sacrifice. I read the unabridged version and I'm so glad that I did. Before reading it, I had several people tell me to just skip the endless chapters of historical narrative. Never. Not only was I immersed in the history of the time period which in turn gave the fictional story much more depth, but Hugo's observations were oft times interesting, cynical, and witty. If you've ever wanted to know more about the battle of Waterloo, convents, or the sewer system of Paris, this is the book for you 🙂
Rebecca by Daphne Du Maurier
What a wonderful thriller. The writing is fabulous and the characters so real, it's hard to put this book down. And that's saying something, since I grew up watching the Hitchcock movie over and over. Honestly, I would recommend both. Great book, great movie. The best part was, I got this book for a dollar at a library sale. Win.
Angela's Ashes by Frank McCourt
It takes a truly talented writer to be able to tell you about his miserable Irish childhood and make you laugh and cringe all the while. He does such a wonderful job of capturing his childhood understanding of God, school, sickness, death, and hunger and bringing you through that into his young adulthood. His writing is sarcastic, witty, and beautiful in a dark way.
Unbroken: A World War II Story of Survival, Resilience, and Redemption by Laura Hillenbrand
This was my final book of the year, because I wanted to read it over Christmas break. And boy did I save the best for last. Hillenbrand does a terrific job of weaving the bigger historical picture with the life of Zamperini. Warning: once you begin reading this fast-paced, masterfully-written book about the crazy life of Louis Zamperini, everything else in you life will be put on hold (eating, sleeping, etc…). You must read it. It's just that good. Beware.
The Poisonwood Bible by Barbara Kingsolver
When I was 16, a woman at church warned me about how horrible a book it was. It was about a really dysfunctional family who went to Africa as missionaries and failed miserably. With the memory of that awful review always staying at the back of my mind, I decided to read it if I ever found it. As luck would have it, I found it at the same library sale as other books on this list. The writing is fantastic and at times, poetic. If you have traveled or lived in a foreign country, or especially if you are a child of a parent with a personality disorder, you will identify much with this family. It is a wonderful book in that it is dripping with harsh, ugly and sometimes beautiful truths.
The Ocean at the End of the Lane by Neil Gaiman
After reading "American Gods" last year, and although not liking the story but appreciating his writing and imagination, I decided to give him another go this year. I'm so glad that I did. He is a masterful storyteller and oh so delightfully creative. This book kept me enraptured, enchanted, and constantly guessing as to where this tale might be going. I was mostly wrong. Yay!
The Way of Kings: Book One of the Stormlight Archive by Brandon Sanderson
I know that loads of people hate the fantasy genre. I do not. However, I do concede that there is an overwhelming amount of crappy fantasy and a dearth of good fantasy writers. But Sanderson, is where it's at. This guy is it. This series is it. If you have never before read fantasy, don't start with this guy and especially not this series because you will forever after be disappointed even with some of the other big names.
Worst
A Thousand Gifts by Anne Voskamp
In case this is your favorite book in the whole world, you may stop reading now. I have gotten much flack from the female Evangelical Christian community about my views on this book, but I do not apologize for my opinions.
The point of the book is great. She has some good, relevant and deep points. But getting to those nuggets of wisdom is a trial akin to swimming through a murky lake at night with your eyes closed. It's almost impossible to stay on track. Why? Bad writing. Lots of people argue with me that she's being artistic or poetic. I love poetry. I love art. No, this is an extended edition Hallmark card. Let me quote you a passage (and no, I'm not picking the only one or even the worst of the bunch—I simply opened the book and pointed to a page).
"I slam upright, jolt the bed hard, hands gripping the cotton sheets wild. There's a halo of light by the door. I breathe, heave breathe. There are stars…My chest pounds hooves of a thousand stallions running on and away, the universe outside the window holds—the one stuck through with stars—and I breathe, I breathe."
Did you like this writing? If so, read the book and enjoy. But here's the thing. No, I don't like fluffy, lacy writing, but it's more than that. This book somehow rings partially false and makes me ask the question, what is the point of being a writer? Is it not to tell truth? It's strikes me that she's trying to hard to impress readers with the truths she's discovered, but leaves some of the darker truths unexplained or ignored. I sense an underlying depression or sadness that may be helped but not fully cured by moment-by-moment thankfulness, but is never acknowledged. Thus, making the sincere acknowledgement of God's graces to us, seem slightly Pollyanna tinged. Then again, I could be completely wrong.
Death Be Not Proud by John Gunther
This is another book that rang false in a very sad way. This is a book written by a father about the last years of his son who is dying of a rare brain tumor. From the point of view of experimental medical practices in the 1950's, it is fascinating (who knew that doctors experimented with mustard gas to shrink tumors?). However, from a personal point of view of John Jr. (the son), the book is extremely lacking. If John Sr.'s point was to simply chronicle the medical journey of his son in the most sterile, detailed way possible, then he did his job well. As the reader, I know John Jr. was witty, very bright, and had a promising science career ahead of him, but that was all. I could not help but wonder if the father who was writing the book, was unable to bring himself to write personal moments with his son because it was too difficult, or were they non-existent? My theory is that either the father, the son, or both, lay somewhere on the autism spectrum and thus, had a difficult time identifying emotions in play. The most personal moments of the book lay at the end written by the ex-wife and mother exploring the idea of loss, death, and sadness. Overall, I came away with a hollow feeling.
The Goldfinch by Donna Tartt
After reading her previous best seller last year (see review) and being disappointed by the story itself, I thought I would give her another chance. Nope. If I thought the last one was bad, this one has even more drinking, drugs, and an even more fatalistic ending than before. So here's the moral of the whole long story: the only thing that makes this wretched life worth living is the need and desire for beauty. Or as Dovstoevsky so eloquently put it, "Beauty will save the world."
Most Thought-Provoking
Girl at the End of the World by Elizabeth Esther
This book really got me thinking about what it was like being a woman in a cult. As I read her honest account, it brought back memories of the fear of eternal damnation, the trying to always be perfect, and the ridiculous standards for women made by men. If you grew up in fundamentalist church or cult, you might really find this book not only interesting, but encouraging.
Bonheoffer: Pastor, Martyr, Prophet, Spy by Eric Metaxas
This is a wonderfully written autobiography that weaves history, faith, family, and the endless search for God, oh yeah, and Bonheoffer's part in it all together. It is a large book that asks large questions and delves deeply into the heart of Bonheoffer's faith. It is not a light read, but it is a must-read.