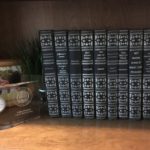 This year, I tried to read 50 books. I only finished 45, but I wanted to tell you about my favorites—the cream of crop.
Fiction
A Tree Grows in Brooklyn by Betty Smith
During WWII, 70 different publishing companies got together to create an Armed Services Edition to send to soldiers fighting on the frontlines. This was one of the books chosen because of its ability to inspire hope. And that is exactly what it did more than anyone could've predicted. I learned about this book from a WWII memoir that I read last year which mentioned its ability to make soldiers feel again and it made me wonder what made this book so special? It immediately went on my reading list and I am so happy it did. Of the all of the books read, it was my absolute favorite. The book begins with this beautiful metaphor: "Some called it the Tree of Heaven. No matter where its seed fell, it made a tree which struggled to meet the sky. It grew in boarded-up lots and out of neglected rubbish heaps and it was the only tree which grew out of cement. It grew lushly, but only in the tenements districts." A good start, huh?
A Man Called Ove by Frederik Backman
This book will make you laugh all throughout. It's about a fastidious and curmudgeonly old man in Sweden named Ove (pronounced: oo-vah) who, after the death of his beloved wife, decides that he has nothing left to live for. Solution? Suicide, of course. Unfortunately for his plans, he has a strong sense of right and wrong tucked under several layers of sweaters (because the cost of heating a house is just too damn high). And also, he has new neighbors who not only interrupt his well thought-out plans time and again because they have no sense of personal boundaries, but also because they (and young people in general) these days are clueless as to how to do things the "right way" and somebody's got to set them straight. It is not only a hilarious book, it's quite endearing—like a grumpy old man.
Biography/Memoir
The Warmth of Other Suns by Isabel Wilkerson
This is such a fascinating read about what many people may never have heard about: the black migration in America. Through the author's use of 3 main characters and the true accounts of their lives, flight and families, the author intertwines their personal histories with the larger historical narrative during those times. The book is masterfully written, riveting, and educational. Being from the south, I also loved the author's naming the south's hierarchy a caste system—as that is exactly what it was. I also appreciated that once the characters moved to the north, the author did not stop there and imply happily-ever-after, but showed the dire hardships they faced once they got to the north and that in many ways, life was not always much better for a long time. It's sad, real, and a must-read. Also, if you decide to read it, you might consider the audiobook as the narrator is one of the best I've ever heard with a masterful range of realistic southern accents.
Seeking Allah, Finding Jesus by Nabeel Qureshi
In my work as an ESL teacher, I have met many wonderful Muslim families and I have always thought that I'd love to understand their religious beliefs and cultures better. I've read portions of the Quran and have learned a few things about Middle Eastern culture, but I thought this book might give me a more personal lens through which to understand. I was not disappointed. The author's love for Islam and desire to know God was inspiring. His journey to conversion to Christianity was a long one, filled with many good theological questions, but also very practical questions (how can I do this to my very devout family?). He was able to look critically at his Islamic beliefs alongside Christianity. This book unexpectedly inspired a greater love for God in me and a renewed appreciation for His relentless pursuit of us.
Boys in the Boat by Daniel James Brown
Me, before reading this book: "It's a book about rowing. Too bad I don't care about rowing." *puts off reading book for a year*
Me, after reading the book: "I love rowing. I had no idea that rowing was such a beautiful thing." *dries tears*
Spoiler: It's not really a book about rowing. It's about the boys in the boat and their oft-times difficult lives. It's about how they came to trust each other, how their mentors saw the best in them and brought it out. It's about how they completely defied the mountainous odds set against them—and how they could not do it alone. They had to trust and depend on each other enough to be a team. Oh yeah, and the means by which they learned all this was through rowing.
Tattoos on the Heart: The Boundless Power of Compassion by Gregory Boyle
This is such a beautiful book about how choosing compassion, even when you're not sure it's the right thing to do, is a life-changing choice. Father Boyle explains how "Homeboys Inc." came about as a way to give gang members and ex-cons, a job, and some place to find good camaraderie and purpose, instead of ending up back on the streets. This memoir will make you laugh, cry, cringe, and roll your eyes. It's raw, funny, real, and beautiful.
Sci-Fi
A Canticle For Lebowietz by Walter Miller
I won't say too much about the plot of the book because it might give things away, but what I will say is, this book is so creative, ironic, funny, and complex. It's a very unique story that you might really enjoy.
A Handmaid's Tale by Margaret Atwood
I really loved this book. If you grew up as a woman in a legalistic cult like I did, you will find this fictional story fascinating, alternately infuriating and nauseating, and scarily plausible. In Atwood's world, women are told what to wear, how to act, what to say, what thoughts to think, under the guise of strict Biblical guidelines. A woman's ability to bear children is both her curse and humanity's salvation. Certain women (essentially breeders) are used as society's sacrificial lambs, sacrificing freedom, choice, dignity, and sometimes their own lives all in the hope of furthering the human race. And like in cults, women are kept in check by other women who've been given a taste of power through their strict adherence to the rules. Men, in this fictional world, are supposedly the ones holding all the power, but like in reality, they too are just a different kind of victim held by the unchecked shackles of their own desires and lust for power.
Nonfiction
Why We Can't Wait by Martin Luther King Jr.
If you read no other book on this list, read this one. It is important and timeless. I'm a firm believer that we can learn many things from history that are applicable right now. This book is thoughtful, moving, and Dr. King is so eloquent and his heart for all of God's children is clear. While reading it, I was struck by so many things but will mention just a few.
Unlike many of the protests today, those who wanted to protest with Dr. King were asked to sign a pledge after a thorough examination of conscience. Signing the pledge was not to be done lightly, without prayer and spiritual preparation and thought. The protests were to show that they were coming from hearts desiring change, not from hatred.
I've heard many white men say things like, "The reason that there is so much crime in the black community, is because these kids grow up without fathers. Either they're in prison, or dead." What none of them admit is that white people were the ones separating black families for centuries. First through slavery, then through low-paying jobs so that mothers had to be live-in housekeepers and father's had to most times, travel great distances for work. It's a terrible cycle ("orphans giving birth to orphans") that Dr. King identifies and calls out first thing in the book. If we want a strong society, we MUST make decisions that strengthen families, not tear them down.
Dr. King made a point of showing the similarities between the poor white and poor black in the south and although he welcomed the poor whites to be a part of the movement, he knew they would likely deny it. It's sad to me that white people in such similar circumstances as their black neighbors were so blinded by the color of skin that they denied their similarities. From reading this and other books, it seems that historically, this divide was one stemming from a false sense of power, that say, a poor, white slave catcher might feel because, although he is only on society's second lowest rung, he believes he has power over the man on society's bottom rung. And like bullies, reacting out of their own misery, they make the lives of those below them even harder instead of choosing to have empathy or compassion.
The Emperor of Maladies: A Biography of Cancer by Siddhartha Mukherjee
Every time I've recommended this book to someone, the reaction is, "Why would I want to read a book about cancer?" Because it's fascinating. If you like history, medicine, or science, this is the book for you. Yes, cancer is a scary thing for most people (myself included), but I also like to understand scary things.
Self-Help
The Connected Child: Bring Hope and Healing to your Adoptive Family by Karyn Purvis
This is such a wonderful book. Whether you're kids are adopted or not, this is the most hands-on approach of how to connect with children that I've encountered. For attachment-challenged children, there are some very effective strategies that are accessible, don't require a degree in psychology to employ and understand, and much of it is intuitive.
Daring Greatly: How the Courage to be Vulnerable Transforms the Way We Live, Love, Parent and Lead. by Brene Brown
This is a book that I gave to every family member this year because so many of the concepts within are so important. One of the most important ones I learned was, shame and guilt are two very different things. Shame says I'm a bad person. Guilt says I made a bad choice. During the time I was learning this, I was also going to my first confession where the priest asked clarifying questions and explained to me the same thing.
Fantasy
Elantris by Brandon Sanderson
This is Sanderson's first book. And although the hardcore fantasy fans will tell you that Sanderson's magic systems are comparatively sloppier than his later works, I say who cares? This book is amazing. I LOVED the story and the characters. It is a story of hope beyond all odds, crazy unexplainable magic, feisty, brave, and clever women, and brave, clever, and optimistic men. The ideas are fresh and creative. It doesn't need to be perfect to be amazing.
Other great reads to consider:
Remains of the Day by Kazuo Ishiguro (delightful)
In a Sunburned Country by Bill Bryson (hilarious)
Incidents in the Life of a Slave Girl by Harriet Jacobs (heart-wrenching)
The Story of My Life by Helen Keller (eloquent)
The Supper of the Lamb by Scott Hahn (eye-opening)
The Fellowship by Sara Roberts Jones (cathartic)