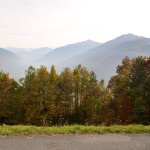 Some things are easy to forgive, and others, well, you can't forgive because it feels too good to hang onto the hurt.  At first, the anger feels good, like a fire burning inside you.  It gives you strength, energy, fuel for living.
But slowly, that fuel of anger burns away your happiness, it incinerates your joy.  You focus on the person you hate, who's wronged you.  You cannot stop feeling hurt and angry.  And without knowing it, you become like the person you hate and refuse to forgive.
Wait long enough, and that hurt and anger becomes depression.  A yawning hole in need of something to fill it.  So you try things.  You smoke, you drink, you try sex and drugs.  You turn up the music, turn on the TV to drown out the thoughts always screaming in your mind.
You find these things give you a moment of rest, of happiness.  But it never lasts.  And the more you're drawn into those things, the more they swallow you up until those once pleasurable things no longer bring an ounce or moment of happiness.
You're stuck.
Long ago you convinced yourself that you don't need anyone else.  You push people away, telling them that it's none of their business.  But deep down, you want them to keep pushing past your walls to prove that they care about you.  How much pursuit is enough?
You have the choice to be miserable and let the person you can't forgive ruin your life, or you can let them go.  The thought of them hangs on you like heavy, wet clothes.  Every movement you make, they come with you.  The idea of them makes you sick, but you won't take off those old clothes.  You need them because you think they've become who you are.  So what can you do?
Forgive them.  They don't ask for it or even acknowledge that they've hurt you.  They may only care about themselves and they may wrong you all over again.
But you know what?  They're just doing what you did for all that time.  They are filled with that same anger, that same hurt, that same sadness that's eaten them alive because somebody did the same thing to them.  They take out all of their hurt on the people around them who care about them most—just like you do.
Can you forgive someone for making the same choices that you did?
Maybe you can't do it on your own.  Maybe you need someone to show you how it works.  Ask the guy who forgave the whole world—you, the person that wronged you, the person that wronged them—to show you how to do it.  Jesus is just waiting until you're ready.  Can you accept his forgiveness for the wrong you've done in order to forgive that person who's hurt you?