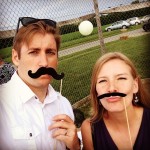 1) A young man walking down the road, alongside the farm growing corn and soy beans, singing an Irish song at the top of his lungs with not a care in the world.
2) A French Canadian family brushing their teeth in the Niagara campground restroom while listening to "Gift of a Thistle" from Braveheart.
3) A beautiful Japanese girl with long, loosely braided hair, holding a black umbrella and wearing a stylish blouse and long, pencil skirt that blew ever so gently in the breeze.  She looked as if she stepped out of a painting.
4) Two boys sitting high on a statue as crowds of tourist passed below them.  One playing a Gameboy and the other providing helpful instruction on how to beat the level.
5) A small Asian couple walking in the park together, hunched beneath a tiny scarf to stay out of the glaring rays of the sun.
6) Playing the piano while my Dad sings hymns in his beautiful soft baritone voice.
7) Hilarious Kid Conversation:
"Hey you!  Girl in the blue shirt," a little boy called out to me from across the large playground.  He and a little girl that I assumed was his sister were playing on the slide.  I was swinging while waiting for my brother Nick to come out of the bathroom.
"Did ya hear me, girl in the blue shirt?" The boy called out again.  "On the swing, in the blue shirt," he clarified.
"Do you mean me?" I asked.
"Yeah."  He jumped from the slide, the little brown-haired girl followed.
"I thought that maybe you were talking to your sister," I said, nodding to the brown-haired girl.
They looked at one another "Ew!" they said in unison.  "No way am I his sister," said the girl.
"Gross!" the boy interjected.  "She's just my cousin."
"Oh, I see," I said.  "Sorry about that."
As they got closer, the boy exclaimed, "Oh, sorry!" He seemed startled.  "You're not a girl! You're a teenager.  I'm really sorry that I called you girl."
"I told you," the cousin said, elbowing him in the ribs.  "That was rude and she's like 14."
"I thought you were a kid,"  The boy told me, blushing.  Both he and the girl looked to be about 9.
"That's fine," I said with a laugh.  "It's probably not too many people my age that you see swinging."
The boy shrugged and climbed on the swing beside me.  He kept glancing over at me with a puzzled look on his face.  It was then that Nicolas came out of the bathroom and joined us on the swings.
"This is Nick," I said
"Is he your boyfriend?" the girl asked.
"No," I laughed.  "He's little my brother."  More apologies ensued and more puzzled looks came my way.
"If he's your little brother," asked the girl, "then how old are you?"
"Are you 14?" the boy asked, thinking he was right.
I was really getting a kick out of this.  "How old do you think I am?" I asked.
"Can't you just tell us?" the girl asked.
"After you guess," I said.
"I think 13," the boy said.
"No, she's probably 16 or 17, stupid," the girl said.
I laughed again.  "Higher," I said.
They kept going up one year at a time until they finally arrived at 31.
The boy jumped off his swing and looked at me with a very serious expression.  "You can't be thirty-one.  My Mom's that age and you don't look anything like her."
"Well, I am thirty-one."
"Wow," the boy said.
It was the girl's turn.  "Are you really that old?"
"Yep."