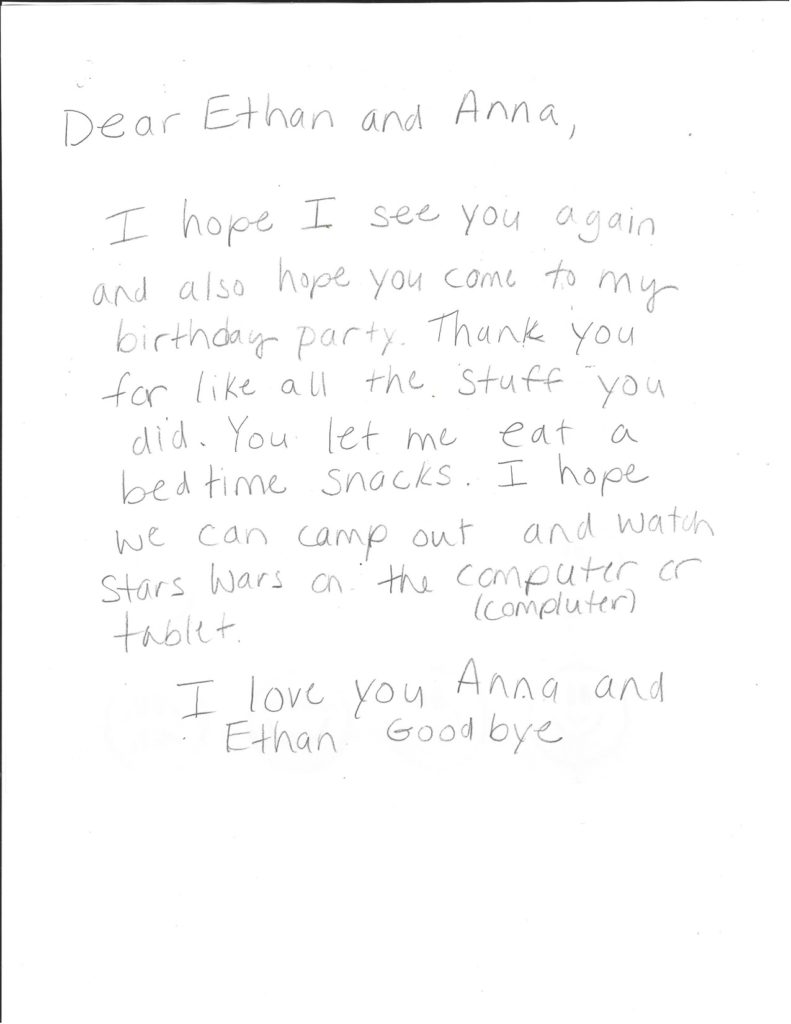 "Count it all joy, my brothers, when you face trials of many kinds. Because you know that the testing of your faith builds perseverance. Perseverance must finish its work so that you may complete, lacking nothing." (James 1:2-4)
We must be lacking a lot. It was a year of great joy, unending grief, of bottomless love, and of waiting in dread while trying to keep placing our hopes and trust in Christ's hands.
After a string of difficult years, this one surpassed all the others. Ethan calls it our foxhole year, and rightly so. This was an exhausting year, of fighting for the "least of these" within very broken systems. The concept of fighting for and not against is a difficult one for most people to grasp. It is nuanced and mostly, misunderstood. But isn't that our calling? To love everyone and fight for justice even when our actions might be misunderstood?
It was also a fight within myself to find love and compassion for those who've wronged others. In every aspect, it was a year of hard, raw, growth. This particular scene kept playing in my head as the year went on: "Why do you want to adopt?" our caseworker asked, one sunny day last summer on the back deck, while all hell was breaking loose in the moat out front. "Because we have extra love in our hearts to give and an extra room," was my answer. And that, in its simplicity is the truth. And love we have. More than we thought possible. And by the end of the year, in our battle-exhaustion, it became impossible to distinguish between the peace we've begged God for all along or numbness. Either way, it's where we're at.
This year revealed just how blessed that Ethan and I are that we can depend on each other as partners, battling shoulder to shoulder, on all fronts. And also, this was the year that we leaned most heavily on friends and family to support us. And they did, with the greatest love you can imagine, knowing that their own hearts might be broken too. But they did it anyway and for that, we can never thank them enough.
It began like this…
On January 1st, we opened our home as a foster-to-adopt home. By January 4th, we received an emergency phone call for 2 young brothers who needed an emergency placement that day. We'll call them Alexi and Andrew. We took them for 3 days to see if things could work as they were said to have some difficult behaviors (that was an understatement). Imagine the most horrific life you can imagine children living, and theirs was worse. We learned bits and pieces of their story after we tucked them in each night, and in the darkness, they opened their little hearts to us. They were little survivors longing to be loved, and their survival techniques equated as extremely difficult and dangerous behaviors.
If you ever foster or adopt, you need to know that many of these children (so far all of those who've come through our home) do not know how to play. Play is a luxury learned when you don't have to spend every moment in survival mode. So, we applied our universal knowledge of boys: boys love sticks. So, we took them to the woods to play with sticks. They had never been in woods before. They had never played with sticks before. We watched them explore the woods with wonder, curiosity, and trepidation. It was the most joyful, beautiful set of moments.
Alexi found a stuffed puppy amongst our toys that he grew immediately attached to. He carried it everywhere over the next few days and because of his inability to be gentle, the beads inside started to fall out. I put a purple produce rubber band around its neck to keep the beads in and Alexi thought that was great because now it had a collar.
In only a few days of being with us, Alexi and Andrew were making plans for their future that included us. And me and Ethan? We could make no promises because although we tried to find any possible way that we could make this work, we simply couldn't. The intensity of their behaviors set off my CFS pretty badly. Even though we are accepting of a wide range of behavioral issues, their needs were far beyond our abilities, and we had to say no.
When we had to tell them goodbye, Alexi wept, inconsolable, while Andrew lay down on the floor and stared at the ceiling in silence. When he finally spoke, it was in a flat tone, his eyes unfocused. "I thought we were going to live with you forever." If you want to have your heart ripped out of your chest, just look in their eyes as you tell them goodbye, knowing that you will never see them again, and will likely never know what became of them. Alexi hugged his puppy to his chest and I told him to hug it tight whenever he needed to feel extra love because I'd put all of my love in there. I'm sitting here still sobbing as I think of those boys. I know that we did the right thing, but the right thing sometimes sucks. They will always have a piece of our hearts and we will always keep them in our prayers.
After that, we said that we might need some time to regroup and rethink our choice of a sibling group, but 4 days later, we got a call for 3 brothers. After I got the phone call, I got on my knees on the floor begging for a clear answer. I called Ethan. We were both hesitant. We prayed. We asked each other if we were crazy because we felt like it was a "yes," and called the agency back. As soon as we met the boys, I felt comfortable, as if they were my brothers, recognizing immediately that their types of trauma are those I've spent my entire life understanding and raising. In January, they will have been with us for a year.
They are terrific boys. The oldest is sensitive, creative, has a unique view of the world, and, as he likes to remind me almost every day, "We have much in common." The middle boy, I call my "Peter Pan." He is either for or against everything with his whole passionate heart. I like to say he'll either grow up to be an actor, a musician, or a forest ranger (he loves nature). The youngest, we call "Little Lion." He is an unstoppable force of nature and lacks fear. If he makes it to adulthood, he will probably become a neurosurgeon…or an astronaut.
We love them so much and have enjoyed teaching them how to play, to embrace their own talents and creativity, and have loved being able to witness their understanding of the world expand. They now know that God is love. We got to help them conquer many firsts: making friends, learning to read, tie their shoes, ride bikes, learn to swim, and how not to give up right away when things don't go as planned.
In June, we got some unexpected news about their future. They would start transitioning back for reunification. This is much more complicated than it sounds and all I can say is that this made the rest of the year exponentially more difficult for everyone involved.
It has been a wonderful year that our lives have intertwined with theirs and soon, the plan is for their reunification. We will miss them and always love them.
The not-so-side plot… 
As I alluded to vaguely last year, we've had some rough years with my brother Nick. Looking back now, I see clearly that the end of 2016 was the start of what I now know to be the prodromal stage of schizophrenia. At the time, I thought perhaps it was just bipolar. Yeah, you know you've been around the block a few times when you say things like JUST bipolar. It was during that tumultuous time in 2016/2017 that he made lots of bad choices during his senior year of high school, and one particular set of decisions that would have ramifications for years to come. At the end of 2018, we learned that charges were being filed. So 2019 was a matter of waiting for sentencing.
In the meantime, during the first half of 2019, we finally became Nick's POA and that made it possible for me to navigate the difficult process of getting him on government assistance, making doctor's appointments, etc…it sounds straight-forward. However, if you are the caregiver to an adult with special needs, mental illness, and anosognosia, you know that HIPAA laws need to be changed. This was the second battlefront: advocating for the mentally challenged.
In the spring, we began to get panicked phone calls by the hour. Nick's mental health was declining rapidly. Stress, for those already predisposed to mental illness, can be cataclysmic. And that is exactly what was happening for him. After some extended paranoid-delusional episodes and hallucinations, I urged him to check himself into a mental hospital, and after a long period, he agreed. He just wanted—no—needed to feel safe. Once there, he stayed for a month.
On one of my weekly visits to see him, I saw someone I recognized who was with a church group, visiting another patient. We shared a nod of greeting, and I could tell this was his first time in a place like this. I knew his look well. It's a mixture of fear, slight embarrassment, and serious determination. I'm sure that when I was a teenager visiting Mom in a mental hospital for the first time, I had that look too. But then, I never saw my own face.
When visiting time was set to begin, and all the belongings of the visitors were safely locked away, we were led down a long and twisting corridor. Much nicer and cheerier than any of the other places I'd visited in the past. The staff was friendly and the place was clean.
Upon entering the visiting room, my brother stood, that sweet grin on his face, his hair an unkempt puff. There were long, mournful faces scattered around the room. An elderly couple, sitting by the large windows, just holding each other in silence. And Nick and I talked about those things that meant most to him; his cat, his dog, and how much he liked being here because it made him feel safe from the world. He was happy. I was happy that he felt safe here and mostly, I was relieved that he was safe for now.
I kept glancing over at the serious church group who prayed in fervent, serious tones with the patient. They clasped hands, and as if they huddled close enough together like a spiritual football team, they could pray away her demons with sheer determination. I'm sure those were not their intentions and their hearts were right (I mean gosh, they showed up), it just made me sad that there were no warm smiles for her.
As for me, I found myself laughing and smiling with my brother as usual, and thought about how much a veteran of a place like this that I feel. There is no embarrassment nor shame. This, even though it may not seem like it, is a place of hope. Better the patients here than dead or still suffering alone and in silence.
At the beginning of July, my dear Aunt Mary (whom I've mentioned countless times on my blog because she's my personal hero) suffered a massive stroke. She has since recovered most of the way physically, but she is still struggling with aphasia. I was able to see her at Thanksgiving, and being the frail human I am, I was nervous. What if I wasn't able to understand her? And then I mentally rolled my eyes at myself because why should that bother me? I've raised multiple kids with speech difficulties, taught ESL for years to people who spoke no English. And then I realized, I wasn't afraid that we couldn't communicate. I was afraid that she wouldn't be the woman that I knew. Of course, I was wrong. I showed her pictures of the boys, we exchanged book recommendations, and, true to herself, when she made mistakes or was unable to be understood, she simply laughed a gentle laugh, smiled shyly, and we found another way to get at what she was trying to communicate. She is so strong, humble, kind, and determined. She is the only hero I think I've ever truly had.
At the end of July, Nick was hospitalized and then sent to the mental hospital again after recovering. As his POA, it was a fight just to get him on the correct medications and to have doctors listen to his medical history since, according to him, his history changes daily.
During the times he was in the hospital, Ethan and I worked to clean out his house and to do renovations. So, our "free time" was spent at the dump and doing construction. In some ways, it was a good stress-reliever. Mostly though, it was just more stress. And then there was also the cat the was left behind and we had trouble re-homing…
At the end of September, Nick was sentenced and a new routine of learning the prison system would begin. There are so many things that I'm learning about how prisons in PA work and it is disheartening to say the least; especially for the mentally challenged/mentally ill population. And that has become the third battlefront: basic humane prisoner treatment.
Thus we end our last day of 2019. We are filled with God's love, and pray for miracles all around. We pray that there are others out there trying to reform these extremely broken systems who are not growing weary in the fight.
Our 2020 looks like more battles, but we're pretty scrappy, and we are being kept afloat with love and prayers.