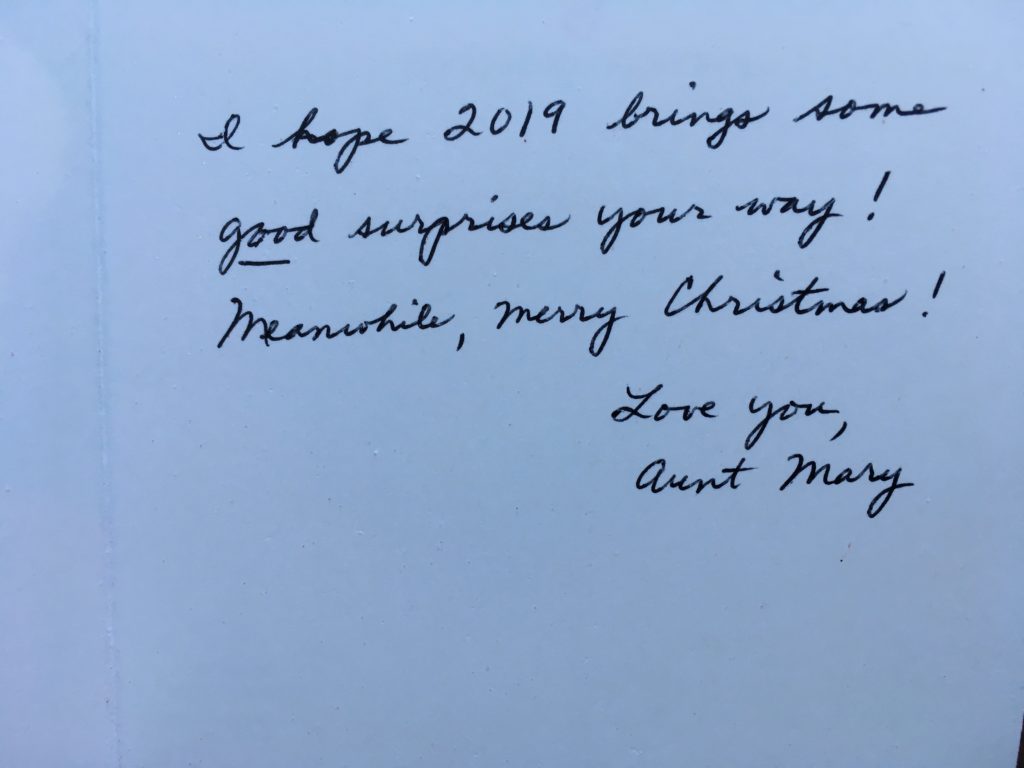 Picture a slightly comedic Rockwell version of George Bailey (from It's a Wonderful Life) standing in his pj's and bathrobe missing its belt, one sock missing, hair standing at attention in a disheveled heap, a five o' clock shadow (because who has time to shave when life is falling apart?), and holding the symbolic broken knob from that blasted staircase bannister in his hand. Ours was a very George Bailey-and-the-broken-knob kind of year. Aunt Mary's Christmas card accurately summed up our year in 2 sentences (yes, she is that amazing).
If this sounds like a frustrating year and you're pretty sure that you don't want to read about it because you too have had a hard year, I don't blame you. I've had my finger hovering over the delete button multiple times, but if I don't tell you the frustrating parts, you can't see the goodness of God's faithfulness either, and like gum in a girl's long hair, those two things are nearly impossible to separate.
To help you to understand our 2018, I need to start back in 2017 for a couple of the pieces. And most of which I can only tell you about vaguely, which is a shame because they were the most dramatic parts of our 2018.
The Backstory (duh, duh, duh)
In 2017, DB (dear boy) graduated high school (by our blood, sweat, and tears, the grace of God, the school principal, and his teachers). By mid 2017, he was getting his life together after a hard previous year. The end of 2017 was our cut-off date to decide whether or not DB would be capable of living on his own or not. And after a year of intense observation and prayer, we determined that although he has made great strides and wants to be completely independent, he's still far from capable of living on his own and will possibly always need a moderately high level of support. So, we came up with a plan…which we will get to in a minute.
Also in 2017…
I began taking vocal rehabilitation lessons to see if it was possible to get my singing voice back. Since first being diagnosed with CFS/ME in 2011, I was sick so often, had acquired new allergies and had so much vocal fatigue, that singing became a thing I used to do. After only a 10 minute warm-up, my throat would be raw and I'd have lost my voice. Since singing was my livelihood and an integral part of the joy of my life, that was a devastating blow. I still sang for church, but it was always weak, faltering, and painful. Midway through 2017, I started to see improvements in my CFS/ME, so I started researching an Italian school that specializes in vocal rehabilitation for singers with health issues like mine and discovered a teacher 40 minutes away that uses that same methodology. I took lessons until May 2018, and although I stumped her often and had plenty of setbacks, I began to see slow and steady progress. By June of 2018, I had my voice back and stronger than ever. I can't tell you what a joy it is to be able to sing again without pain, and with freedom and clarity. I feel like me again. Praise God!!

Christmas and New Years of 2017/2018 found me hard at work creating a multi-leveled ESL work-related curriculum for my refugees class. The old one was too advanced for most of the newly-arrived students and it was creating student frustration and volunteer teacher hemorrhaging. By May 2018, the new curriculum was tested and kinks were mostly worked out and I had to step down because my own life was getting crazy.
Okay, now for 2018.
In January, Ethan and I officially started the adoption process.  From the time we started our first class, the clock started ticking.  We had one year to complete all the classes, paperwork, interviews, and pass the home safety inspection.  So, we attended the classes and began the long and arduous process of paperwork, background checks, etc…  We learned so much that we wished we'd known when DB came to live with us 6 years ago (how trauma affects the brain, what that looks like, and how to work with someone who is highly affected by it).  We learned why some strategies worked and others didn't, and the classes helped me to understand myself and my own attachment issues better.  It was also heartening to be told by our social workers that the difficulties that we've experienced in parenting DB are considered to be on the far side of the difficulties faced by adoptive parents. 
There was just one major piece to get into place: in order to adopt children, we would have to build an apartment for DB and get him moved in by December so that we could put kids in his old room. So, we came up with a plan.
Plan A: turn our two defunct garages into one larger garage with an efficiency apartment above it.
Just having the plans drawn up was really expensive. Nope.
Plan B: we'll take half of the downstairs of our house (the storage closet, guest bedroom, and the enclosed, but outside coal storage area) and turn it into a small apartment.
I began to demolish things and uh-oh. Black mold. LOTS of black mold along the outside wall (as well as dead mice everywhere). Why didn't we smell it or notice sooner, you ask? Because there were three layers of walls (drywall, panel board, horse hair plaster) before getting to the foundation wall. And that foundation wall had so many holes in it that not only was water pouring in, one could also see right through those holes to the outside. If plan A had worked out, we wouldn't have known this and things would've gotten much worse. Yep, God's grace.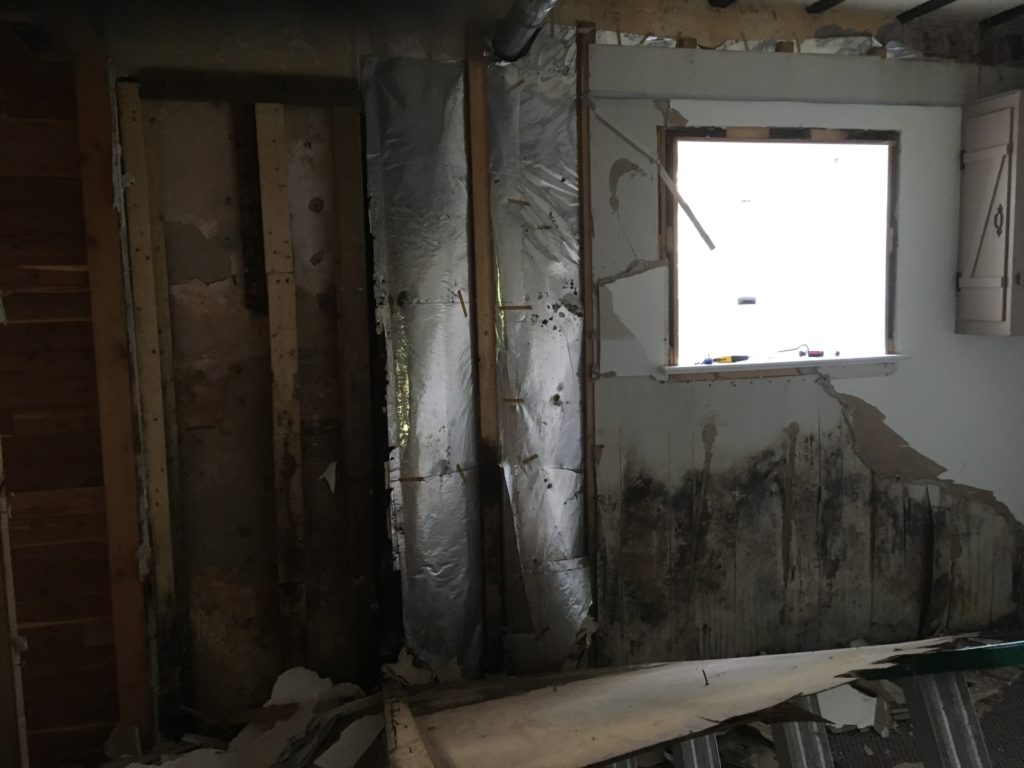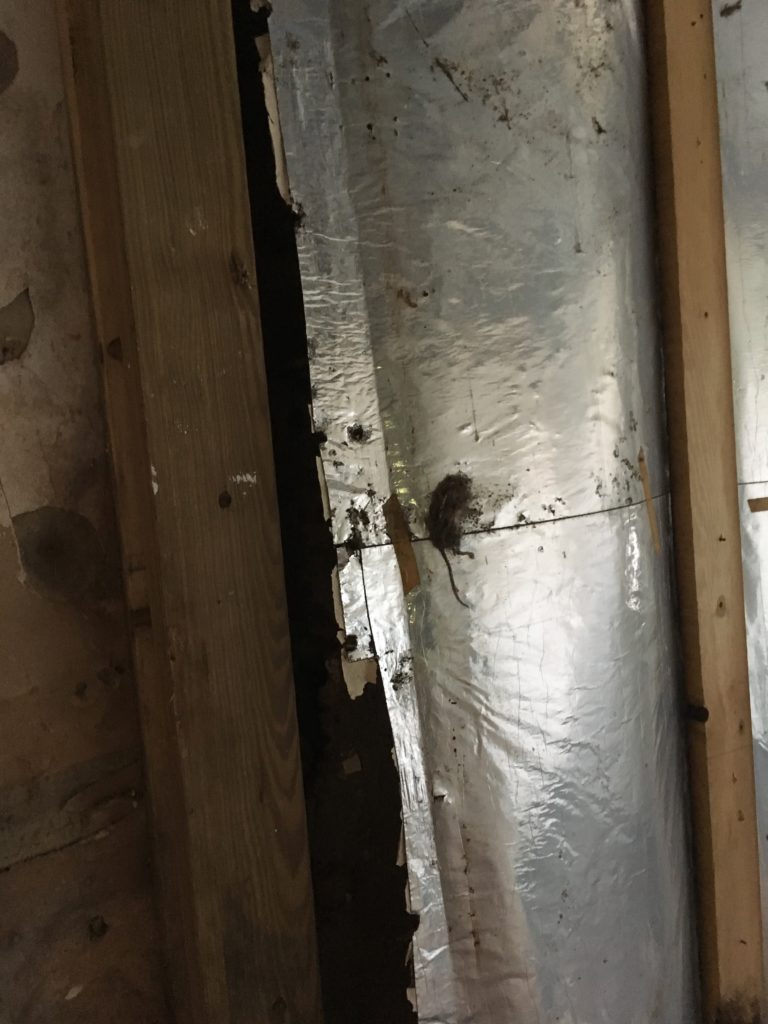 Plan C: Put in a French drain outside and patch up the holes.
No problem. Except that to dig the 15 feet down around the foundation wall, we'd have to dig up our oil tank, pay to have the soil tested, remove the A/C unit and redo the entire HVAC.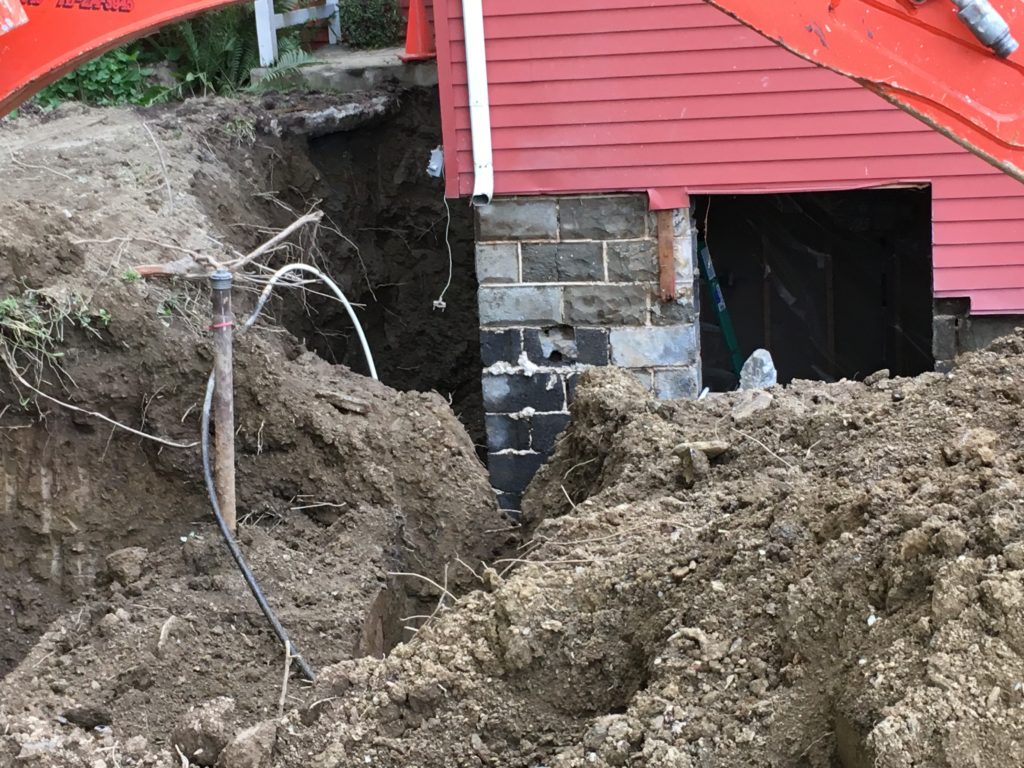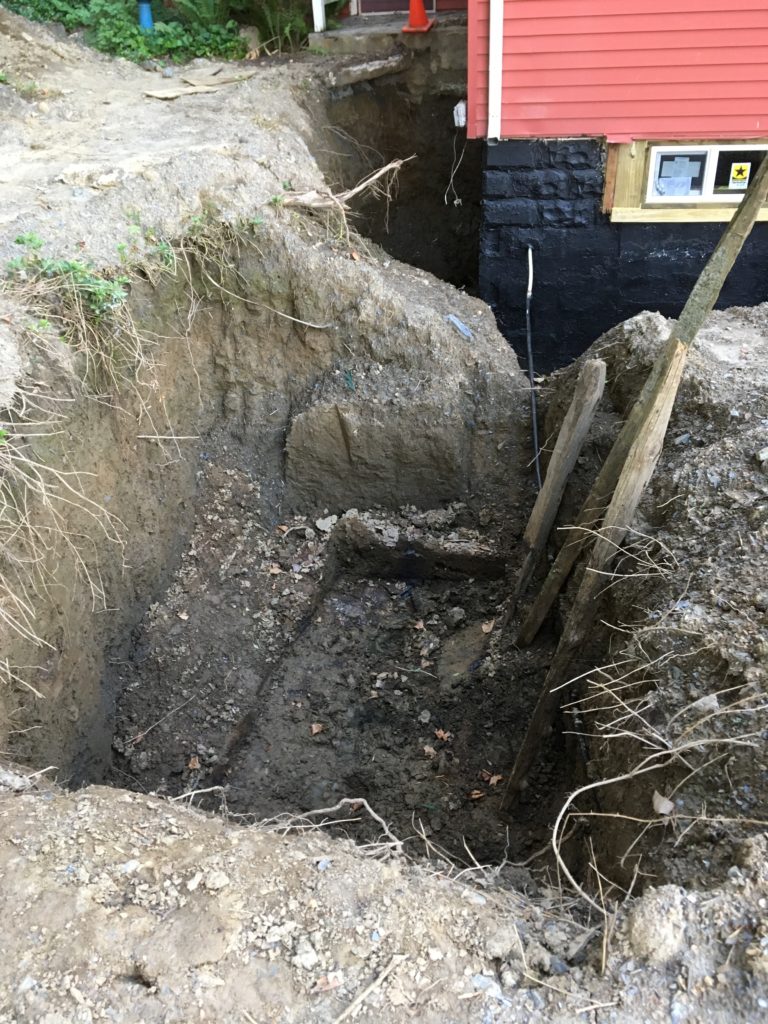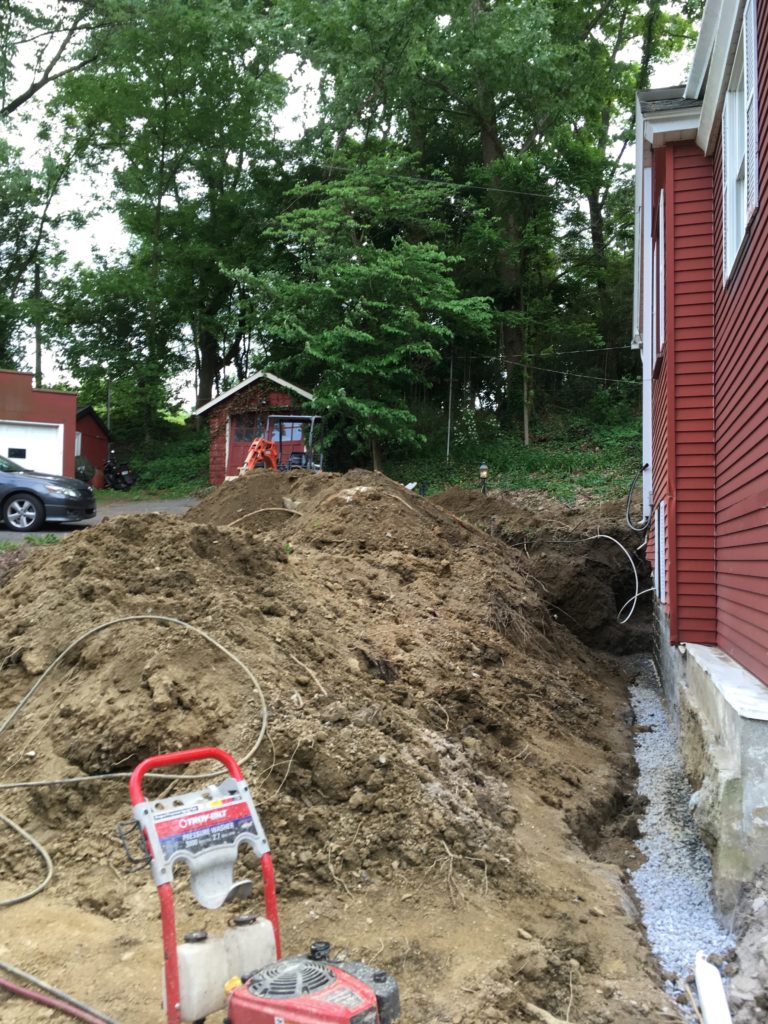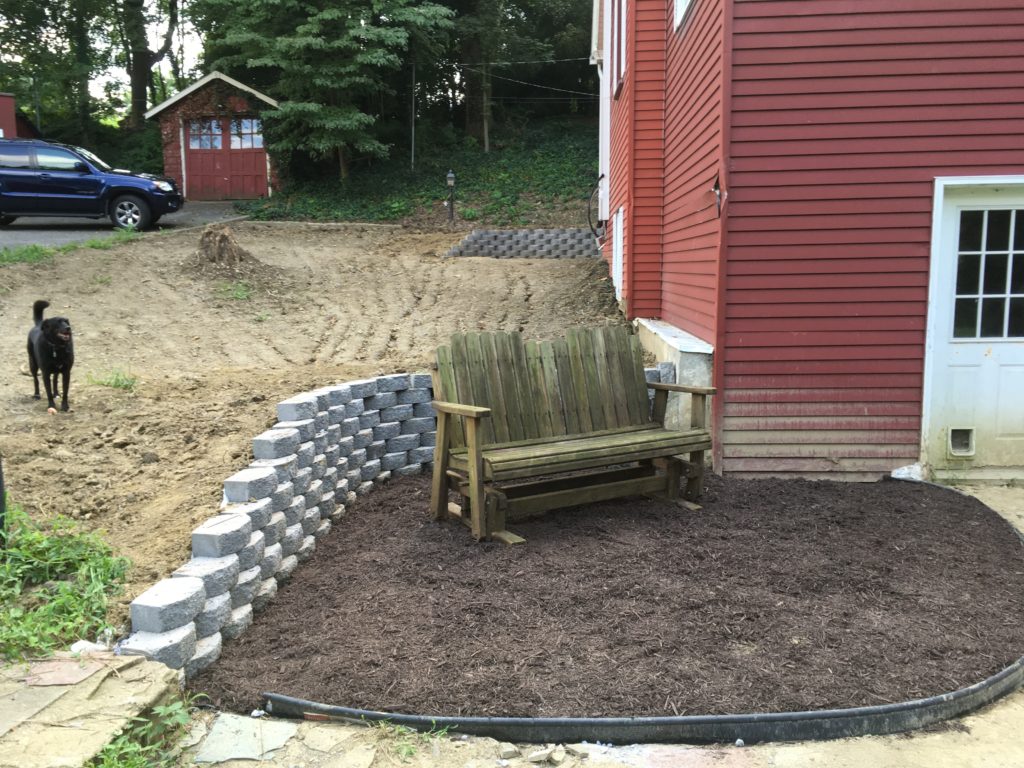 Plan D: We'd talked about the need for a more efficient heating/cooling system for years, so we'll just replace it a bit sooner than expected. So, we started contacting businesses for quotes. We finally decided on one and, bear with me here for a second, although this next piece of information seems completely superfluous, I assure you, it's not. The HVAC company had just been bought out by a larger local company a few months prior, and, as we learned in the newspaper the day after we gave them a substantial down-payment, the larger company was being investigated for bank fraud. The very next day, the HVAC and parent company closed their doors and declared bankruptcy. We would've lost our substantial deposit except that Ethan had thought to put it on the credit card. The grace of God.
Plan E: Find another HVAC company.
After another two months of trying to convince people to do the very out-of-the-box work that our unique 1930 house requires, no one was willing to take it on…except the original company that had gone bankrupt and restarted itself independently of the parent company.
And maybe I didn't mention this, but between February and August, I saw Ethan for a total of almost 2 weeks. He was traveling for work, so I was the unofficial foreman who was trying to keep clear communication to all contractors, keep them supplied, and repaired engines and mechanical devices whenever they broke. Yes, small engine repair is my new hobby. So, I had a full teaching load, and did construction and repairs in my "spare" time.
In June, I was rebuilding a stone wall and despite my proper attire (long sleeves, jeans, work boots), I was bitten by a Black Widow spider. It hurt, I worked a bit longer, then showered up. The bite got to be pretty big and I was sick for two weeks, but the whole reason I'm writing this is so that you know, if you are ever bitten by a venomous spider, just wash it off with soap and water and it will be unlikely to look like the necrotic pictures on the internet.
In July, we had our interview with the social worker who told us that we couldn't be approved until the house was safe.  I tried to convince her that a house with a moat—heck, we could throw in an alligator—was the latest in home security, but she didn't buy it.  Theoretically, everything was supposed to be done by then, but between the record-breaking rainfall and the HVAC delay, we were only halfway done.  And before we could be approved, we had to have the downstairs apartment finished for DB, so that we could redo his old room for our hypothetical children.  And, to help you understand how fragile a human I am, small annoyances, like no A/C all summer, no water most days, and no electricity or internet most of the time, all seemed to add up over time so that I felt like a violin string taut and ready to snap with the stress.  Plus, since January, I'd had back and neck issues that just wouldn't seem to go away, but thankfully, very few CFS issues (yes, definitely the grace of God in that).
August was creeping up before we knew it and with it, our trip that we'd been planning for a few years. We'd decided at the beginning of the year to take a spiritual pilgrimage hiking the Camino, our "babymoon" (if you will), before we adopted. We were scheduled to leave on August 21. But there was a problem. Who could we find to oversee the ongoing construction projects, take care of the pets, and keep an eye on DB (who always seems to have panic attacks when we're away) for one entire month? Enter God's providence. We got a call from Ethan's cousin Fritha. Their family decided to move from Florida up to PA and needed a place to live for a month starting August 21 and going through September 21st and would it be possible for them to stay at our house and not be homeless? THE EXACT TIME WE WOULD BE AWAY. I'm pretty sure I may have wept tears of relief. Jeff, Fritha's husband, I knew would be more than capable with the construction aspect of things and Fritha is a nurse and DB could go to her for any medical needs. Wow, the grace of God.
We left on August 21 for our flight from JFK to Madrid and from there to Oviedo where we took a rest day to get acclimated. It was a few days into our trip that we found out someone had stolen our credit card number and was using it in Yonkers to buy movie tickets and Gym memberships. I hope they saw a good movie and got fit. Thankfully, I thought to bring an international back up…just in case.
At some point, I hope to write about our Camino experience in a much more detailed way (I made sure to keep a journal), but for now, just know that it was exactly the "rest" that our souls needed. We walked 380 miles, and it took a good 200 miles for me to leave behind the massive amounts of stress that clung to my mind. I did have some issues with CFS (mostly joint problems) that I always conveniently forget the existence of until it's painfully obvious. At home, thanks to the capable Jeff and Fritha, the few things that would've been a big problem for anyone else, were taken care of with aplomb and without our knowledge until after we got home.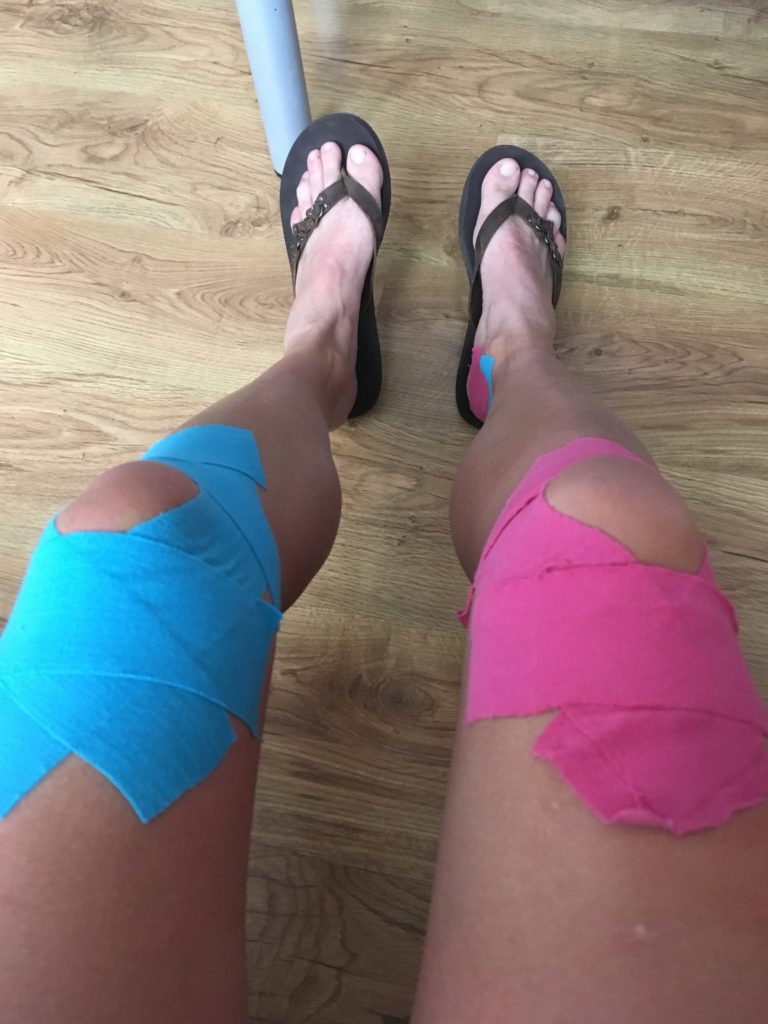 We returned to surprise medical bills telling us that DB had spent several nights in the hospital while we were away and he didn't tell anyone because he has major trust issues. That was expensive. Anyway, we dove right back into the phrenetic pace of trying to race the clock to get everything set for the adoption home inspection, and finances being tight, we knew we needed to do the rest by ourselves. So we did.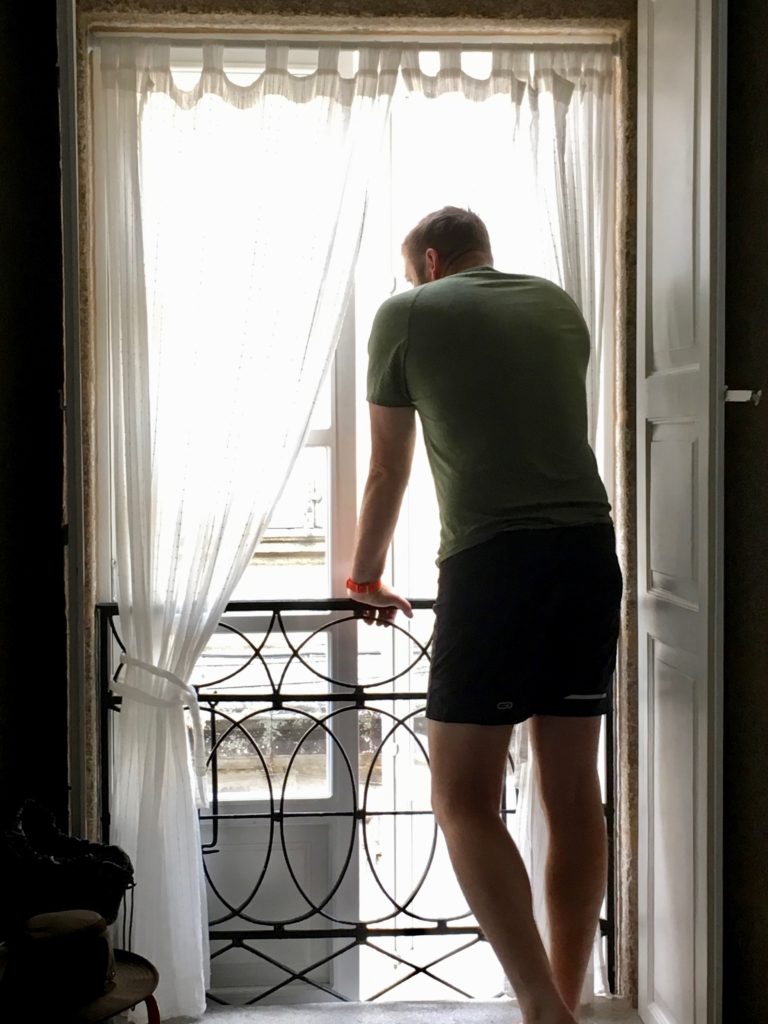 Then, I had some unexpected health stuff happen. I still don't know what it is, and it is better now than it was in October/November but the only thing that was ruled out with the CT scan and MRI was that it is not a brain tumor. Whew. I still need to go to a neurologist and figure things out, but that got put on the back burner because something else came up.
October 23rd, we were officially approved for adoption. Yay! DB was all moved into his downstairs apartment and loving the independence. Things were calming down.
The week before Thanksgiving, the last few years came back to haunt us. So now it was a case of DB or hypothetical children. We'd planned to start the adoption process 6 years ago when instead, we became legal guardians to DB. We could not put it off again and we also could never give him up.
So, Thanksgiving found us finishing more home projects while simultaneously figuring out our options. I looked into supervised living options for young adults with special needs, but the waiting list and cost for that kind of place was ridiculous.

As we begin this new year, I'm excited, hopeful, exhausted, and extremely grateful. We don't know when kids will be living with us, it could be tomorrow, or it could be next year. And because of the added responsibilities with DB, I decided to go ahead and find other teachers for all of my students. I couldn't keep teaching full-time, especially if we have kids living with us sooner rather than later. So, in some ways, I'm happy because I'll hopefully have time to write in the waiting period and that is super exciting.
And if you like photos, here are a few of the finished home projects. We are not putting up photos of the apartment though (even though it turned out beautifully).
The finished den.

The bookshelf.

The newly built doors to hide the heat pump.

The completed kids room.

The refinished fireplace.

The re-built handrails.